The report of the two-year Youth Learning Through Arts project, a joint project involving three countries and six organisations, was finalized and it is time to summarise what the takeaways were for those working with young people.

The project published three methodological guides, the first on how to run an eco-crisis art workshop with young people, the second on improvisation in youth work and the third on diversity and accessibility in arts education. There was a total of six workshops organised for young people and three training sessions for art educators and youth work professionals, one in each project country: Finland, Slovenia and Poland. The purpose of the trainings was to learn new things, network and share knowledge, but it was also important for the authors of the methodological guides to get feedback from both young people and art education professionals working with young people, for example on different exercises. It was important that they were able to brainstorm together and find new perspectives. After the end of the project, the guides will be freely available to all those working with young people.

We met with Finnish art educators after the project ended. Although they had already provided written feedback, it was important to hear their feelings, especially on whether the knowledge and skills they had acquired during the project had been put to use

"The training opened up many new ideas and thoughts for me about my own artistic work, well-being, accessibility, equality and the power of collaboration. It was especially nice that the Finnish participants represented different artistic fields/skills, as I myself am very interested especially in interdisciplinarity."
An issue that the project steering group was already considering at the beginning of the project, and which was also discussed at the meeting of the art educators was the selection of participants for the training sessions. In Finland, five participants were selected for each training, which allowed us to offer training to more art educators working with children's arts and culture. Another option would have been to select five professionals to participate in each of the three training sessions of the project. This would have allowed the participants to gain a deeper experience and a greater commitment to the project but would have left the knowledge base in a smaller group. Our Slovenian and Polish partners opted for the latter option. In the final discussion among the project steering group, we concluded that, in the end, neither option is probably better than the other, they just emphasise different things.

"The participants were very nice, open and creative people. The Finnish participants were well selected. Diverse and from different backgrounds. This also gave a perspective to the training and discussions on the content."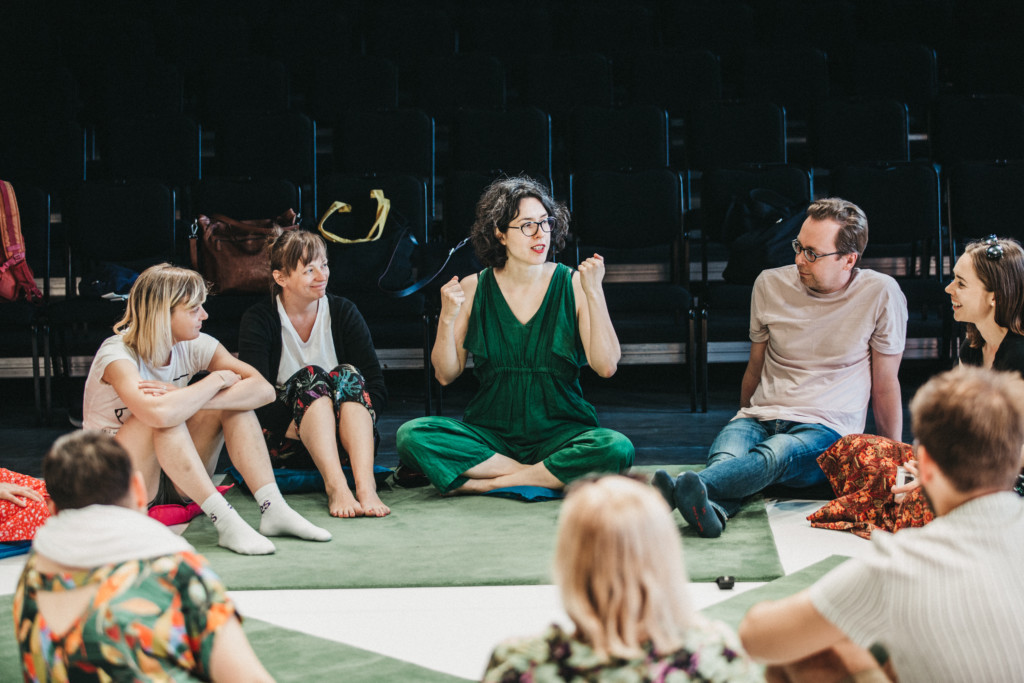 "Despite their young age, the trainers were professionals in their field and the trainings were relaxed, the atmosphere was inclusive and there was mutual trust in the group, which was particularly nice to experience."

Participants encountered some language challenges and felt that more time could have been given to both tasks and discussion. The training days were described as fruitful but intense and long.
The first day in Slovenia was like an improv- buffet with so many good things on offer that it was perhaps a little too much.
Both the written feedback and the meeting showed that the participants had learned new things about accessibility and about using drama in interaction, storytelling and other creative activities with groups of children and young people. In both Slovenia and Poland, the training sessions also addressed special needs groups.

"In Poland, this dimension extended to accessibility of art exhibitions and cultural institutions. This input was particularly enriching from a workplace perspective. It was interesting to experience for myself how, for example, a blind person can perceive a work of art in a different way by touching it or by the possibilities offered by sound."

Some of the participants said they had already used the training in their own work and had taken the information back to their workplace. Many participants said that they had learned not only about work-related issues but also about themselves.

"The improvisation exercises helped me to develop my own performance skills, self-expression, tolerance for mistakes, interpersonal skills, and to break down my own outer shell and empower my inner voice and emotions. It was really liberating!"

One of the best things that the participants mentioned was the opportunity to network. The Association received feedback, that future projects should take networking even more into account and that each participant would be able to present their own expertise, work and projects to each other in a concrete way. Contact informations were exchanged and some Finnish participants had already tentatively discussed ideas for cooperation with Polish and Slovenian art educators. So something new may be in the making.
Ninni Pehkonen
YLTA project coordinator
Photo / Fot. G. Mart, MIK 2022